by Aaron Weinstein, Managing Editor
Our inaugural Journal Club- lead by Resident Ambassadors Sammy Sinno (@sammysinnoMD), Amanda Silva (@AmandaKSilvaMD), and Raj Sawh-Martinez (@docrfsm)-  has been phenomenal thus far:
The Resident Ambassador's picks and paired classics for the January issue have likely sparked many academic discussions. Oh, and in case you forgot, all 13 articles are offered free for you to read.
The podcasts from are available on our website, via iTunes, and on Youtube and have been listened to hundreds of times.
And our very first live Twitter #PRSJournalClub discussion, featuring Q&A with the authors was a lively affair and an unexpected success, reaching over 88,000 accounts in one 18 hour period of the exercise.

Some of the accounts reached came from surprising locales: 
For those of you who missed it, or want to re-live and have easy access to some of the best interactions between the authors, residents, patients, surgeons and other interested parties, we've put together the following re-cap.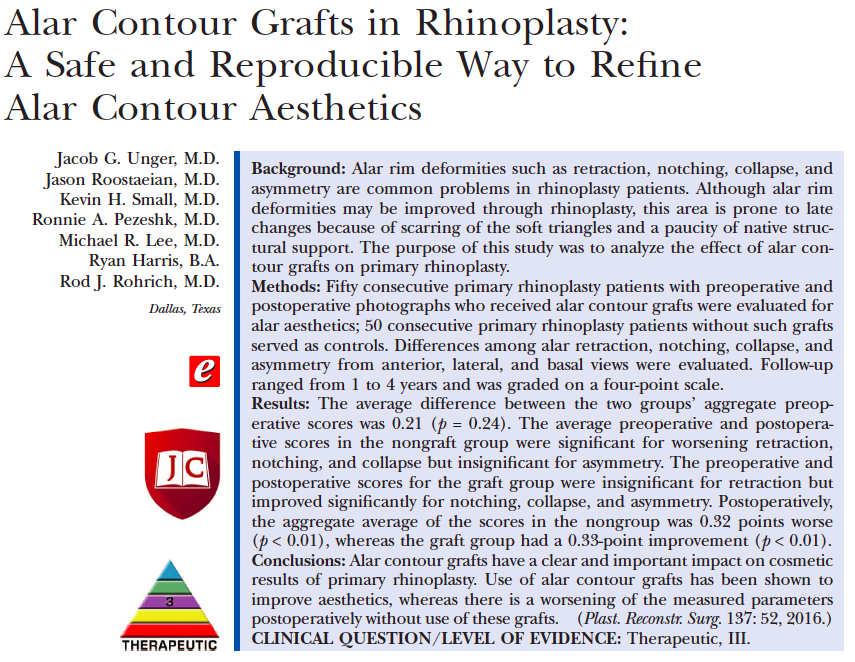 The article: Alar Contour Grafts in Rhinoplasty: A Safe and Reproducible Way to Refine Alar Contour Aesthetics
The authors:
Jacob G Unger, M.D. @DoctorJacob
Jason Roostaeian, M.D. @DrJasonPlastics
Kevin H Small, M.D. @DrKevinSmall
Ronnie A Pezeshk, M.D. @ronsurfer
Michael Lee, M.D. @DrLeePlastic
Ryan Harris, B.A.
Rod J Rohrich, M.D. @DrRodRohrich
The Best Tweeted Q&A:
1. Question: In what percentage of patients do you use alar contour grafts (ACGs) currently?
Answer: 

Rod Rohrich: >90%

Question

: Amanda Silva-

Should someone early on in practice error on placing alar contour grafts more or less often?

Answer: Rod Rohrich: More Often- when in doubt, do an ACG especially with any alar rim notching

Question: 

Amanda Silva- When, if any time, is it unwise to place alar contour grafts in rhinoplasty?

Answer: Jacob Unger: a recon rhino with excessive scarring of alae for any reason could be a contraindication to ACG
Answer: Ron Pezeshk: ACGs may not be necessary if no notching is noted both pre and intra-operatively, but when in dout use them
Answer: Rufino Iribarren may be with too hang alar rim or a too high columnella

Amanda Silva: Agreed, seems it would further distort
2. Question: Do you ever suture your grafts into place or rely on your pocket to hold them?
Answer: Rod Rohrich: Usually don't need to secure if placed precisely in pocket bridging notch.
 3. Question. What size do you aim for in preparing ACGs?
from: Raj Sawh Martinez
Answer: Rod Rohrich- use 1.5cm x 3 mm
4. Question.  I usually do closed rhino, what do you do with the hanged columnella?
from: Rufino Iribarren
Answer: Jacob Unger: Great question. A columellar strut can still be placed via closed technique and can help control. Excess membranous septum can also be excised and repaired over a strut to help with columella.
Answer: Rod Rohrich:  i usually treat hanging columella with either caudal septum resection with or without mucosa #Rhinoplasty
5. Question. If you do suture grafts, what sutures do you prefer?
from: Rizwan U. Sheikh
Answer: Rod Rohrich: I use 5-0 chromic to deep dermis to avoid skin dimpling
6. Poll. Do you routinely use alar contour grafts in Rhinoplasty?
7. Question. What makes the best donor site for alar contour grafts: ear, septum, or rib?
from: Amanda Silva
Answer: Jacob Unger- Also ensuring that the grafts are of equal strength/flexibility is key. Otherwise unequal forces may shift the tip
8. Question. Irrespective of donor site morbidity, what source do you think is best for ACGs?
from: Jordan Frey
Answer: Rod Rohrich-the septum is by far the best donor site for ACG s!
Answer: Jacob Unger- septum is ideal donor 4 ACG as you can ensure symmetric length, width, thickness, and strength.
9. Question. In primary male #rhinoplasty with thicker skin, should ACG be used more selectively?
from: Daniel Liu
Answer: Rod Rohrich- I use ACGs more in thick skinned noses as they tend to have more alar notching post op
10. Question. Any tips/articles/videos on closed septal harvest or is open always best?
from: M. Shuja Shafqat
Answer: Rod Rohrich- open septal Harvest is best as one sees better and harvest just what is needed and leave the rest
11. How far from alar rim do you place ACGs?
Answer: Jacob Unger-Place them in the fibrous space parallel to the rim. Approx 1-2 mm from rim margin. Soft triangle to alar lobule/base
 Question: Amanda Silva- 

do you prefer to place ACGs from medial or lateral?

Answer: Jacob Unger:  prefer medial approach. Does not require new incision through internal lining as lateral does
12. Question. Are ACGs as common as spreader grafts?
From: Sammy Sino
Answer: Rod Rohrich- Should be used more than spreader grafts with less problems.
Answer: Michael Lee- I use invisible spreaders and ACG frequently but ACG more

Question: Amanda Silva-

Could you explain invisible spreaders?

Answer: Michael Lee-  offset from dorsum ULC brought over graft
13. Question. Do you infiltrate local anesthetic/hydrodissect to help create pocket for ACG?
From: Rizwan U. Sheikh
Answer: Jacob Unger-  No. I find sharp scissors and good counter traction are all that is needed
14. Question. What's your secondary option for ACG if septum not available? 
from: Raj Sawh Martinez
Answer: Jason Roostaein- ear or rib cartilage work but given the small amount of cartilage needed it is rare.
15. Question. Have you seen a complication from an ACG?
from: Sammy Sinno
Answer: Rod Rohrich- a rare palpable edge if not beveled medial not seen in last 5 years!
16. Poll. Will this study make you consider ACGs more in Rhinoplasty?
17. Question. Any differences noted in pliability/strength and/or outcomes/complications depending on ACG harvest site?
From: David Tsai
Answer: Rod Rohrich- yes best to use a soft but durable graft from septum not rib unless no other options
18. Question. Dr. Sheen used bone vomer on the tip. Possible to use bone vomer graft in ACG?
From Rufino Iribarren
Answer: Rod Rohrich- bone is too rigid and palpable not a good option
Answer: Michael Lee- agree with Dr. Rohrich also bone resorption problems

Rufino Iribarren- understand, it´s always better to use cartilage graft to achieve valve function
We hope this summary of the best Q&A exchanges has helped you better understand ACGs and their role in rhinoplasty. What did you think?  Chime in on the comments section below, especially if you had any unanswered questions!
Will this study make you consider ACGs more in Rhinoplasty?
More importantly, we hope that this summary has you even more excited to join us for next month's Twitter #PRSJournalClub talk when we discuss "Lipofilling of the Breast Does Not Increase the Risk of Recurrence of Breast Cancer: A Matched Controlled Study," on February 21-22, 2016.
Start following us @PRSJournal and get your questions and tweets ready for the next installment of the PRS Journal Club!